Meeting in Chamonix, May 2014
[2014-05-30 Fri]
Glacier hydrology inter-comparison
To discuss:
what's the point?

present a model comparison to the community

what should be compared?
who wants to be involved?
what are the goals?
time frame?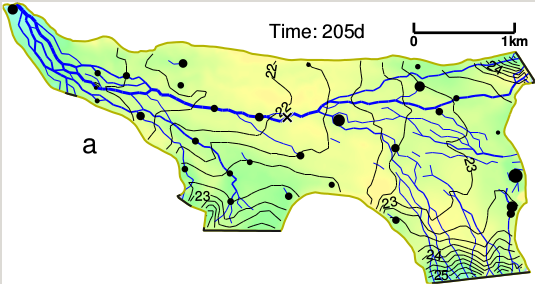 Inter-comparisons (ICs)
"exact" ICs:

compare models with same/similar physics

"general" ICs

compare models with different physics

1D & 2D plan-view (3D?)
Other things which we may want to include in the far future:

ice flow
groundwater flow
surface/englacial hydrology
ocean
etc
Inputs
Input fields:

bed and surface
melt forcing
ice flow speed
moulins

Physical parameters:

how to set parameters in physically different models?

fitting: calibrate parameters to fit some (steady) state. Then predict some others?

what do we want to fit?

outflow
eff. pressure
measurable parameters vs full fitting

mathematical translation?
IC tests
what do we want to test/compare?
how many ICs do we want?
Synthetic:
box ice sheet margin (start with this only)
flat valley glacier (+ overdeepening)
mountain glacier (Hoffman et al 2013)
Tide water glacier
Real:
Russell/Leverett
Gorner
Arolla
Forcings
steady (start with this)
diurnal
seasonal
seasonal + diurnal
jokulhlaup
processed met-data
Outputs & metrics
How to compare the model outputs?
Metrics:
effective pressure in a area
flux
storage
Others: lateral average, elevation bands, statistics
Drainage system morphology:
channel spacing
lateral variation in N
Technical:
Specifics
who wants to participate?

Mauro, Tim, Ian, Christian, Basile, Matt, Gag

time frame

hydro workshop: first week of October?

Mauro makes a web-site
publication
name:
Participants
Tim Creyts
Ian Hewitt
Christian Schoof
Basile de Fleurian
Matt Hoffman
Olivier Gagliardini
Gwenn Flowers
Jesse Johnson
Mauro Werder